9th Annual Wine & Chowder Trail October 2019
October 11, 2019 - October 13, 2019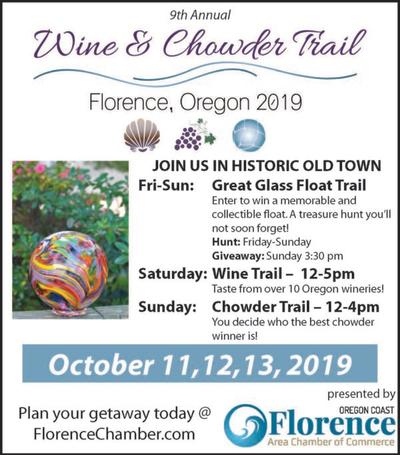 Join us for this fun filled three day weekend on the Oregon Coast! Friday, Saturday and Sunday search for and enter to win hidden glass floats around town, Saturday stroll through Old Town and sample wines from Oregon's finest wineries. Then Sunday be your own judge and let us know what your favorite chowder is from the dozen different samples available through out Bay Street.
Glass Float Hunt & Chowder Trail participation cards will be available Friday at the Visitors Center (290 Hwy 101) and in Old Town at Gazebo Park (Corner of Bay St. & Laurel) Saturday and Sunday. They are $5 each. Hunt goes from Friday through Sunday at 3pm. All raffle tickets must be delivered to Gazebo Park by 3:30pm Sunday. Float give-away begins at 3:30pm. MUST BE PRESENT TO WIN.
Wine Trail –  Saturday from 12-5PM. Glasses and tasting tickets will be on sale in Old Town at Gazebo Park Saturday. Glasses are $5 and tickets are $1 each.
Chowder Trail – Sunday from 12-3pm. Ballots must be submitted to Gazebo Park by 3. Winner will be announced after the Float Give-Away.
Here's the lineup!
WINERY DESTINATIONS (12)
All About Olives –High Pass
Backstreet Gallery – J. Scott
Beachcomber Pub – Noble Estates
Blue Heron Gallery – Bradley
Bodega – Brandborg and Organic pours (Bodega's Staff will be pouring for Brandborg)
Florence Regional Arts Alliance – Sarver
Homegrown Pub – Summerfield
ICM – Capitello
The Jolly Egret – Gelardi
Keller Williams Realty Florence– La Velle
Sticks and Stones Gallery – Morgan Meadows
The Studios – Iris
CHOWDER DESTINATIONS (9)
Backstreet Gallery (Outside) – Jerry's Place
Beachcomber Pub
Bridgeport Market – Lighthouse Inn
Homegrown Pub
ICM
Lovejoys Restaurant
Milk and Cookies/Found Vintage – Surfside/Driftwood Shores
Novelli's Crab & Seafood
Socks to a T – Off Bay St Bistro
GLASS FLOAT LOCATIONS (29)
All About Olives
Bay Street Bling
Beauxarts
Bay View Bistro
Berkshire Hathaway
Bridgeport Market
Bodega Wine Parlor
Beachcomber Pub
Firehouse Restaurant
Florence Regional Arts Alliance
Florence Antiques & Coast Jewelers
Hukilau
ICM
Jerry's Place
Jolly Egret
Kitchen Klutter
Keller Williams Realty Florence
KXCR Radio
Kreations Hair Studio
Lighthouse Inn
Milk and Cookies / Found Vintage
NOVA Health
Off Bay Street Bistro
Oregon Coast Humane Society
Periwinkle Station
PS Winkles
Roby's Furniture & Appliance and The Mattress Shoppe
River Roasters
Socks to a T
Three Rivers Casino