WEBCAMS
What's it like in Florence…right now? Take a look at this!
Just to whet your appetite for a memorable Oregon Coast getaway, here is the local weather forecast and a few of our favorite webcams showing the beauty and grandeur of our area. Make plans now to come stay in Florence, Oregon's Coastal Playground! Book a stay with one of our excellent local lodgings.
Web Cam at Driftwood Shores
Here's the view from Driftwood Shores Resort and Conference Center…the only oceanfront hotel in our area. Every room has a spectacular view, as does their onsite Surfside Restaurant and Lounge. View Live Web Cam
---
KEZI Sky Cam: Florence
Thank you to our friends at KEZI-TV in Eugene for placing their camera high atop a hill just southeast of town. This beautiful panorama shows the Siuslaw River Bridge, the Historic Old Town and Port of Siuslaw marina district, and parts north and west. Trace the river as it wraps Florence on its way to the Pacific. Better yet, come see it all for yourself!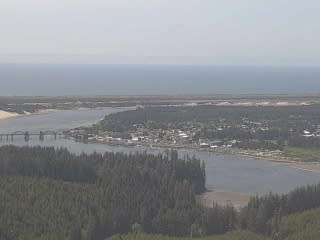 Webcam at Harbor Vista Park
Harbor Vista Park is a great vantage point for the mouth of the Siuslaw River and ocean, and to watch local wildlife and traversing boats. It makes a great stop-off on the way to the North Jetty beach. Be sure to add it to your lists of places to visit while you're in Florence.
Florence Oregon Airport Webcam
For our pilot friends, here's the view from our municipal airport. Our 3000-foot paved and lighted runway is ready to welcome you. Plan ahead to use our courtesy car or a taxi and stay a day or two. View Webcam