ANNUAL EVENTS & FESTIVALS
January
---
Annual Winter Music Festival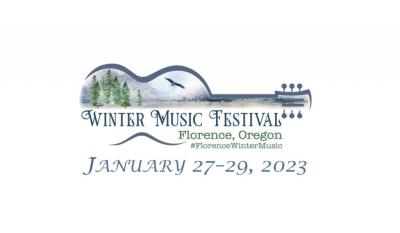 Location: Florence Events Center, 715 Quince St.
When: Last Weekend in January
Description: Plan now to warm up your winter with some hot bluegrass, heartwarming new and traditional folk, and foot-stompin' Americana. Three days and a nearly a dozen acts at the Florence Events Center. The event showcases a variety of international touring talent and Pacific Northwest favorites, an artisan fair with 2-D and 3-D pieces by top-flight artisans, a wealth of locally-sourced cuisine and fine libations, lively jam sessions, performance seminars, pie sale, and a Thursday Kids Concert for local school districts. The Florence Winter Music Festival is produced by the 501 (c) (3) nonprofit Friends of the Florence Events Center, an all-volunteer membership organization that helps fund capital improvements and performance grants at the venue. To join, or get more information on the Winter Music Festival, call the Florence Events Center at 541-997-1994.
February
---
Valentine's Day? Yes! Check with our local lodgings to learn about romance packages.
Annual Wine & Chowder Trails and Great Glass Float Giveaway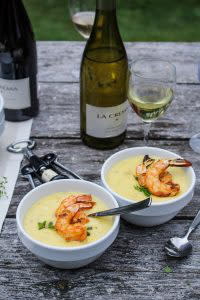 Location: Historic Old Town Florence and other sites around town
When: February 16-18, 2024
Description: Join us for this fun filled three day weekend in Florence! Friday, Saturday, and Sunday search for and enter to win hidden glass floats around town. On Saturday stroll through Old Town and sample wines from a dozen of Oregon's finest wineries. On Sunday be your own judge and let us know which is your favorite chowder from the dozen different samples available all along Bay Street. Glass Float Hunt & Chowder Trail passports ($5 each) are available Friday at the Visitors Center (290 Hwy 101) and in Old Town at Gazebo Park Saturday and Sunday. Commemorative Wine Trail glasses and tasting tickets will be on sale at Gazebo Park in Old Town Saturday. Glasses are $5 and tickets are $1 each. Live music, surprise performances, and more. Register for wine pairing dinners, clam digging clinics, and other events!
For more information: FlorenceChamber.com, 541-997-3128
March
---
Spring Whale Watching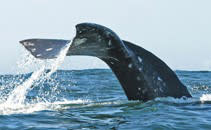 Location: Highway 101 turnouts between Sea Lion Caves and Heceta Head Lighthouse, at Cooks Chasm Turnout, and at Cape Perpetua Interpretive Center
When: Height of migration is usually around the third weekend in March
Description: Volunteer "Whale Watching Spoken Here" experts are strategically located along the Oregon Coast to help you spot some of these 20,000 majestic, migrating mammals.
For more information: www.WhaleSpoken.org
Plan now to enjoy Spring Break in Florence!
May
---
Annual Rhododendron Festival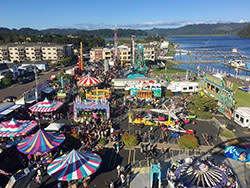 Location: All around town
When:  May 16-19, 2024
Description: Come enjoy the pageantry of the second-longest running floral festival in Oregon! Festivities include Saturday's kids' parade, Sunday's grand floral parade, a flower show at the Florence Events Center with hundreds of our famous rhododendrons, the Davis Shows carnival, classic car shows and cruise, motorcycle shows, 5K run, food and drink, street vendor fair, and the coronation of Queen Rhododendra, King of the Coast, and their Court.
For more information: FlorenceChamber.com, 541-997-3128
June
---
Oregon Dunes Triathlon/Duathlon
Location: Dunes City, Oregon
When: Second Weekend in June
Description: The Oregon Dunes Triathlon and Duathlon includes four races with exciting, scenic courses in neighboring Dunes City, OR. The best lodging options are here in Florence. The races start with the swim in the clean and clear Woahink Lake, followed by the biking portion along beautiful, quiet, country roads of Dunes City, and then the run through the winding trails and campground of Honeyman State Park. The race finishes with an epic climb up the Oregon Dunes.
For more information: www.OregonDunesTriathlon.com
July
---
Siuslaw Awards and Chamber Annual Meeting
Location: Three River Casino Resort 
When: July 21, 2023
Description: Celebrate success in commerce and community leadership! This prestigious banquet recognizes excellence in the local business community by naming recipients for awards in Excellence in Customer Service, Curb Appeal, Non-Profit Achievement, Community Caring, Innovation in Business, and the Stu Johnston Business of the Year Award. The event includes the State of the Chamber address. Two outstanding individuals in the community will be honored with the Future First Citizen Award and the First Citizen Award recognizing leadership and impactful selfless service to the community. The Chamber will also recognize with the Distinguished Service Award an individual or business that has selflessly given of their time and efforts in supporting the Chamber.
For more information: FlorenceChamber.com, 541-997-3128
---
Old Fashioned 4th of July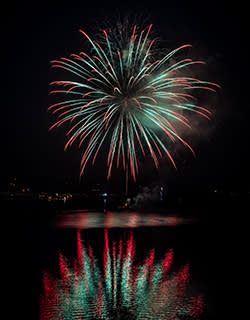 Location: Historic Old Town Florence and other sites around town
When: July 4th
Description: Old-fashioned family fun and games, pie- and watermelon-eating contests, food, music, and one of the best fireworks shows on the coast launched from a barge in the Siuslaw River to add a dramatic reflection off the water. Add synchronized patriotic music and you've got yourself a show to remember!
For more information: FlorenceChamber.com, 541-997-3128
August
---
August is the peak of the summer season in Florence. Every day is a special event here in Oregon's Coastal Playground. With so much going on during the normal course of coastal life in August, there are no specific high-profile events to list. Come. Make it a day at the beach…or two…or three…
September
---
Annual Rods 'n Rhodies Classic Car Invitational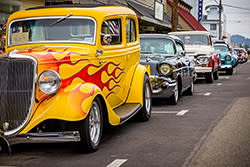 Location: Historic Old Town Florence and various locations around town
When: Weekend After Labor Day
Description: Florence will be in top gear and revved-up for you during the Annual Rods 'N Rhodies Invitational Car Show. Because Rods 'N Rhodies is an invitational, you know you'll see more than 100 of the West Coast's most gorgeous, amazing, awe-inspiring high-end hot rods and custom cruisers from 1976 and earlier at different venues all weekend. Themed music, cruise, food, and surprise performances on a closed-off Bay St.
For more information: RodsNRhodies.org
Communitywide Garage Sale
Location: Various locations around town
When: Weekend After Labor Day
Description: Let the bargain hunting begin! With scores of residential and commercial sales all around town, you'll enjoy a shopping adventure like none other. Snag a copy of the garage sale guide at the Siuslaw News office (148 Maple St.), online at TheSiuslawNews.com, or the Chamber of Commerce office (290 Highway 101) and enjoy your treasure hunt!
For more information: FlorenceChamber.com, 541-997-3128
November
---
Annual Veterans' Day Parade
Location: Parade route begins at Florence Events Center, 715 Quince St., and wends its way through Historic Old Town, to Veterans' Memorial Park (Bay St. at Kingwood St).
When: November 11
Description: This annual event brings honor to those who served our country through their military service.
For more information: www.facebook.com/FlorenceVeteransDayParade/
December
---
Annual Florence Holiday Festival
Location: Historic Old Town Florence
When: First Saturday in December
Description: Enjoy live music, warm beverages, Santa's arrival, great holiday season sales, hayrides, caroling, and the Mayor's Tree Lighting Celebration.
For more information: FlorenceChamber.com 541-997-3128
Winter Whale Watching
Location: Highway 101 turnouts between Sea Lion Caves and Heceta Head Lighthouse, at Cooks Chasm Turnout, and at Cape Perpetua Interpretive Center
When: Height of migration is usually between Christmas and New Year's Day
Description: Volunteer "Whale Watching Spoken Here" experts are strategically located along the Oregon Coast to help you spot some of these 20,000 majestic, migrating mammals.
For more information: www.WhaleSpoken.org