GETTING HERE
How do you get to Florence? And once you're there, how do you get around?
By car, Florence is at the intersection of Highways 126 and 101. We are about an hour west from Eugene via the scenic Highway 126, and about an hour from Newport to our north and about an hour from Coos Bay/North Bend to our south along the spectacular Highway 101. We are almost dead-center in the middle of the Oregon Coast, halfway between the Washington and California boarders.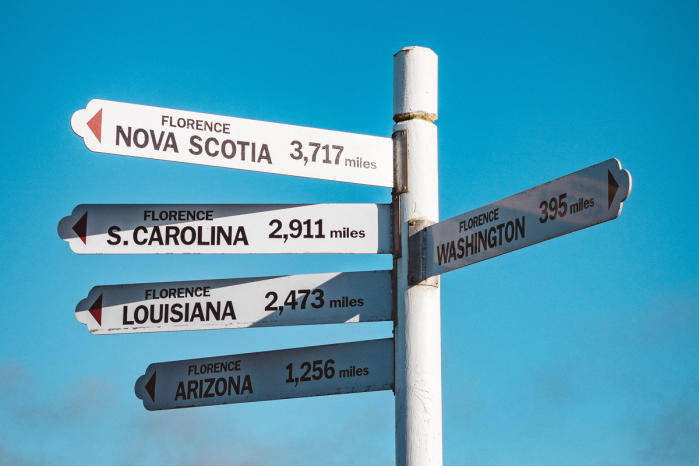 TRAVEL BY AIR
Florence is just a scenic one-hour drive from the Eugene airport, an hour north of the Coos Bay/North Bend airport, and three hours from Portland International Airport.
The Eugene Airport (EUG) offers direct service to Portland, Seattle/Tacoma, Salt Lake City, Denver, San Francisco, Oakland, San Jose, Las Vegas, Los Angeles, San Diego, Phoenix, Phoenix-Mesa, and seasonally to Chicago/O'Hare (beginning in June 2019). Commercial air carriers include American Airlines, Alaska Airlines, Allegiant Air, Delta Air Lines, Frontier Airlines, and United Airlines. The Eugene Airport is at 28801 Douglas Dr., Eugene, OR 97402. Phone: 541-682-5544. Website: FlyEug.com.
The Southwest Oregon Regional Airport (OTH) is about a one-hour drive south of Florence on Highway 101 at Coos Bay/North Bend. It is the only commercial airport on the Oregon Coast and offers service on United Airlines to San Francisco and seasonal flights to Denver. The Coos Bay/North Bend airport is at 1100 Airport Lane, North Bend, Oregon 97459. Phone: 541-756-8531. Website: CoosCountyAirportDistrict.com.
The Florence Municipal Airport is used by private pilots, recreational tour guides, and small transport companies. It features a 3,000-foot paved and lighted runway and self-serve fuel (100LL and Jet A), available 24 hours, seven days a week. The airport can handle twin-engine aircraft and small jets. Pilots using our airport should call 541-997-8664 and/or use frequency 118.225. A courtesy car and bicycles are available to pilots, and the local Rhody Express bus system serves the airport. The comfortable pilot lounge offers free WiFi, hot coffee, TV, and flight planning aides. The lounge is open 8:30 a.m. to 4:30 p.m. daily, except major holidays. Phone: 541-997-8069. The airport's Automated Weather Observation System (AWOS) provides a recording of the weather in Florence. To hear the recording, call 541-997-8664.
ELECTRIC VEHICLES WELCOME
Electric car owners no longer have to miss out on a trip to Florence or driving the entire length of Highway 101 through Oregon. There now are numerous EV and Tesla charging stations along the gorgeous, historic route. But right here in Florence you will find them at The River House Inn, 1202 Bay St.; The Old Town Inn, 190 Highway 101; and Driftwood Shores Resort and Conference Center, 88416 1st Ave. There are also common EV stations at the Central Lincoln public utility district office, 966 Highway 101; and Three Rivers Casino Resort, 5647 Highway 126.
PUBLIC TRANSPORTATION
For travel around town, Florence has a taxi service and a public bus system. The Rhody Express bus operates Monday through Friday from 10 a.m. to 6 p.m., except holidays. The route covers key stops throughout Florence in a one-hour loop. Phone: 541-902-2067. Website: www.ltd.org/rhody.
River City Taxi service, including wheelchair accessible vans, is available seven days a week, 7 a.m. to 3 a.m. Phone: 541-997-8520.
Traveling along the coast and to the valley has never been easier!
The Florence-Yachats Connector Bus Service shuttles passengers north and south between these two fun destinations on Highway 101. Relax and take in the awe-inspiring ocean, lake, and forest views—for just $5 for a day pass, or $2.50 for a one-way pass (COVID – Temporary FREE rides on all Link Lane routes. All riders are required to wear a face mask or adequate face cover in order to ride.). Exact change or pre-purchased tickets are required. The bus is fully accessible and bikes are welcome as space permits. Click here for more information.
Service includes two round-trips per day, Monday through Friday, 8:00 a.m. to 7:35 p.m. except holidays. The bus picks-up and drops-off at Grocery Outlet in Florence, makes one mid-route stop at Carl G. Washburne State Park, and makes its turn at 3rd and Pontiac (Historic Log Church) in Yachats. For details, route maps, location of stops, and more information visit www.ltd.org/florence-yachats-connector or call Lane Transit District at 541-902-2067.
Florence-Eugene Connector – The Florence to Eugene Connector bus runs seven days per week, with two routes per day. It will not run on the following days: New Year's Day, Martin Luther King Jr. Day, President's Day, Memorial Day, 4th of July, Labor Day, Thanksgiving Day and Christmas Day. Tickets are $5/ one-way, fares between Florence and Mapleton are $1. Tickets can be purchased through the bus driver. (COVID – Temporary FREE rides on all Link Lane routes. All riders are required to wear a face mask or adequate face cover in order to ride.). For locations, times and details click here.
With the Link Lane bus service, it is more convenient and affordable than ever to travel between Eugene and Florence or Florence and Yachats. You can count on Link Lane to get you there comfortably, stress free and with ease. Take advantage of our low fares on a fully accessible bus.
COMMERCIAL BUS SERVICE
Hub Airport Shuttle provides you with a safe, comfortable and timely ride to and from the Eugene Airport to your home, office, or any other location. Website: hubairportshuttle.com
NW Adventures Quest is a private tour bus company offering group trips along the coast, to wineries and breweries, and custom scenic adventures. Address: 5351 U.S. Hwy 101 Florence OR 97439. Phone: 541-590-0571. Website: nwadventures.org.
Pacific Crest Bus Lines provides daily transport from Coos Bay to Florence to Eugene and Bend. They are the Amtrak and Greyhound provider to Florence. Their pick-up location in Florence is in front of Florence City Hall, 250 Highway 101. Phone: 541-269-7183 in Coos Bay. Phone: 541-344-6265 in Eugene. Website: pacificcrestbuslines.com.
BOATS
The Port of Siuslaw operates a vibrant recreational and commercial moorage with marinas and a public boat ramp on the Siuslaw River. Sail, motor, row, or paddle your way up to the dock and disembark right into Historic Old Town Florence! They also have a campground with 105 sites with varying degrees of service. The facilities are less than five miles upriver from the mouth of the Siuslaw River. Contact: 541- 997-3040, PortOfSiuslaw.com, 100 Harbor St, Florence.
It is highly recommended that commercial and recreational boaters check with Coast Guard Station Siuslaw River regarding conditions at the mouth of the river. Phone 541-997-3631. Facebook: www.facebook.com/USCoastGuardSTASiuslawRiver.
TRAIN
Eugene, about an hour east of Florence, is served by AMTRAK.