RODS 'N RHODIES ANNUAL CAR SHOW N' SHINE
These awesome hot rod/rat rod/classic car gearheads really know how to put on a party! Twice a year these kindhearted, hardworking folks do events to raise funds for local families who need a hand up with small car repairs so they can keep driving to work or get kids to school and sporting events. Don't miss Rods N Rhodies invitational car show weekend (and its partner event, the Community-wide Garage Sale) on the second weekend of September, or the cruises and show-n-shine events during the Rhododendron Festival in May.
29th Annual Rhody Days Car Show N' Shine
May 20, 2023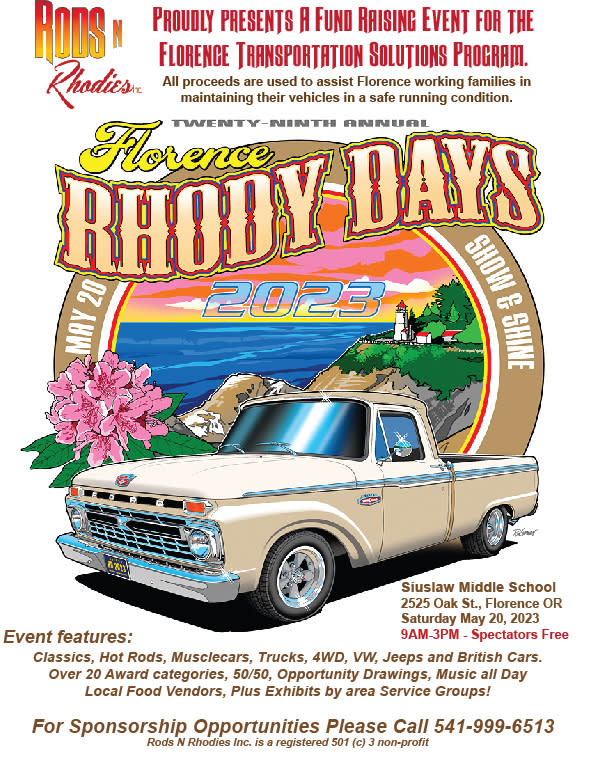 Rods N' Rhodies Inc. is presenting the 29th Annual Rhody Days Car Show N' Shine on Saturday May 20, 2023, at the Siuslaw Middle School. All proceeds go to the Florence Transportation Solutions Program to assist Florence working families in maintaining their primary vehicles in a safe running condition. See over 250 classic cars and trucks, customs, hot rods, military, 4WD, and British vehicles on display in addition to exhibits from local non-profits, food vendors, music, opportunity drawings, and an RC Show!