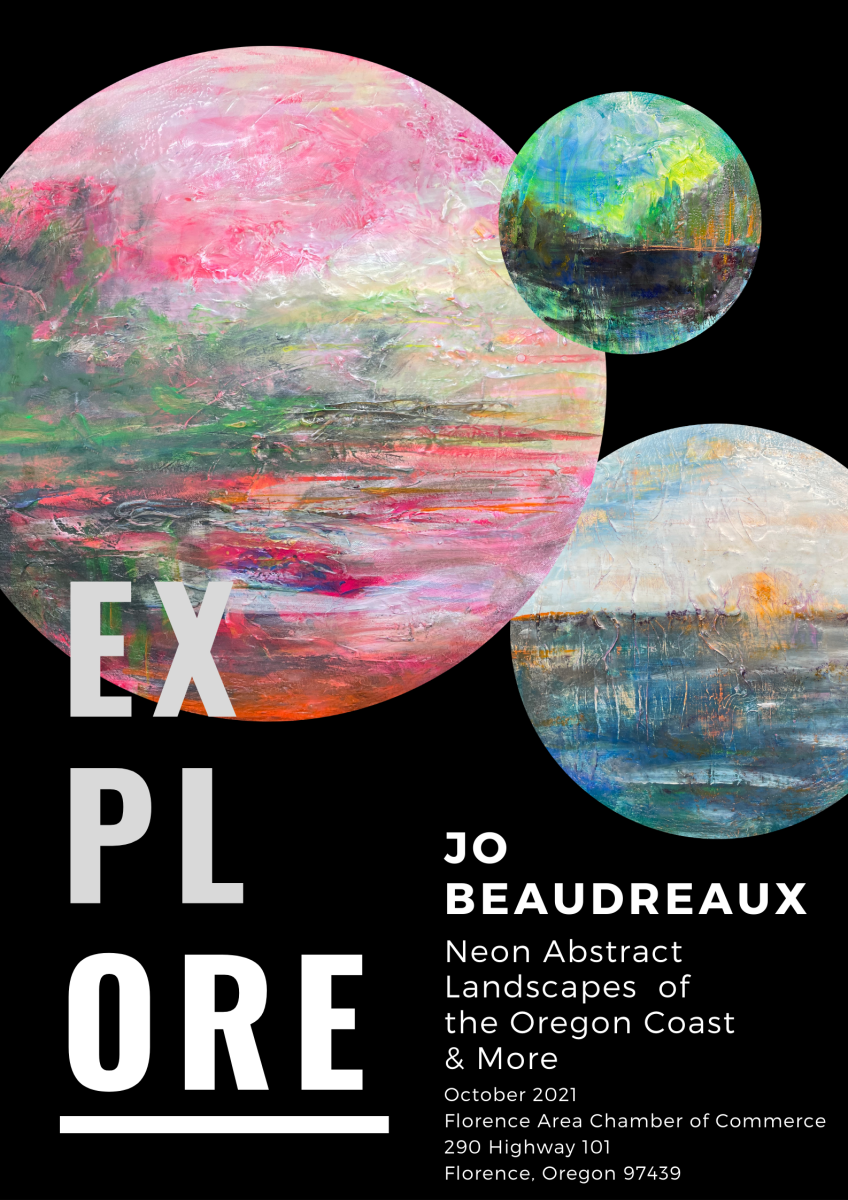 The Florence Area Chamber of Commerce's Visitor Center, 290 Highway 101, features an everchanging exhibit of local artists' work. Their newest display of local artistry features mixed media encaustics by Jo Beaudreau, owner of BeauxArts Fine Art Materials and Gallery in Florence.
 Encaustic is an painting technique using pigments mixed with hot wax and resin that has been used for centuries.
 "This year's works featured a challenge since we have been living in challenging times – why not embrace and take it head on?," asked Beaudreau.
Beaudreau chose to set some guidelines for herself which incorporated round shapes in various sizes and neon colors. With these parameters she was able to create unique works of abstract landscapes—colorful and surreal images of forest, lake, beach, sunrise, sunset, and more—while using her popular encaustic techniques.
"Neon colors are, appropriate to our times, a challenge—hard to work with—because they are so vibrant. Not many artists use neon colors in their works, but I was inspired by seeing a Monet painting at the Portland Art Museum, a huge 10×10 foot work of his lilies, and lo and behold, he had used dayglo pink in his flowers and other vibrant colors," she explained. "Neon colors don't translate well photographically, they are best seen/experienced in person, just like this amazing area in which we live."
"We are thrilled to have Jo's work on display again. She's so multitalented. Her last exhibit was her magnificent photography. This time it's her artistry with a paintbrush. Visitors are going to love this exhibit," said Bettina Hannigan, president/CEO of the Florence Area Chamber of Commerce.
Beaudreau's work has been displayed in shows and galleries across America. She serves on the City of Florence's public art committee, serves on the Florence Events Center's gallery committee, and is co-chair of the Siuslaw Vision 2025.
 "The arts have always been my interest, specifically, the visual arts. I've always been involved with creating my own art or helping others create theirs. I love all types of expression. Every day I am thrilled I can help people create through my shop's materials, my materials knowledge, and other resources," says Beaudreau.
The Chamber's winter hours are Tuesday, Wednesday, and Thursday from 10:00 a.m. to 4:00 p.m. and Friday, Saturday, and Monday from 11:00 a.m. to 3:00 p.m. It is closed on Sundays. For more information about the Florence Area Chamber of Commerce, and how to join or volunteer, visit FlorenceChamber.com or call 541-997-3128.