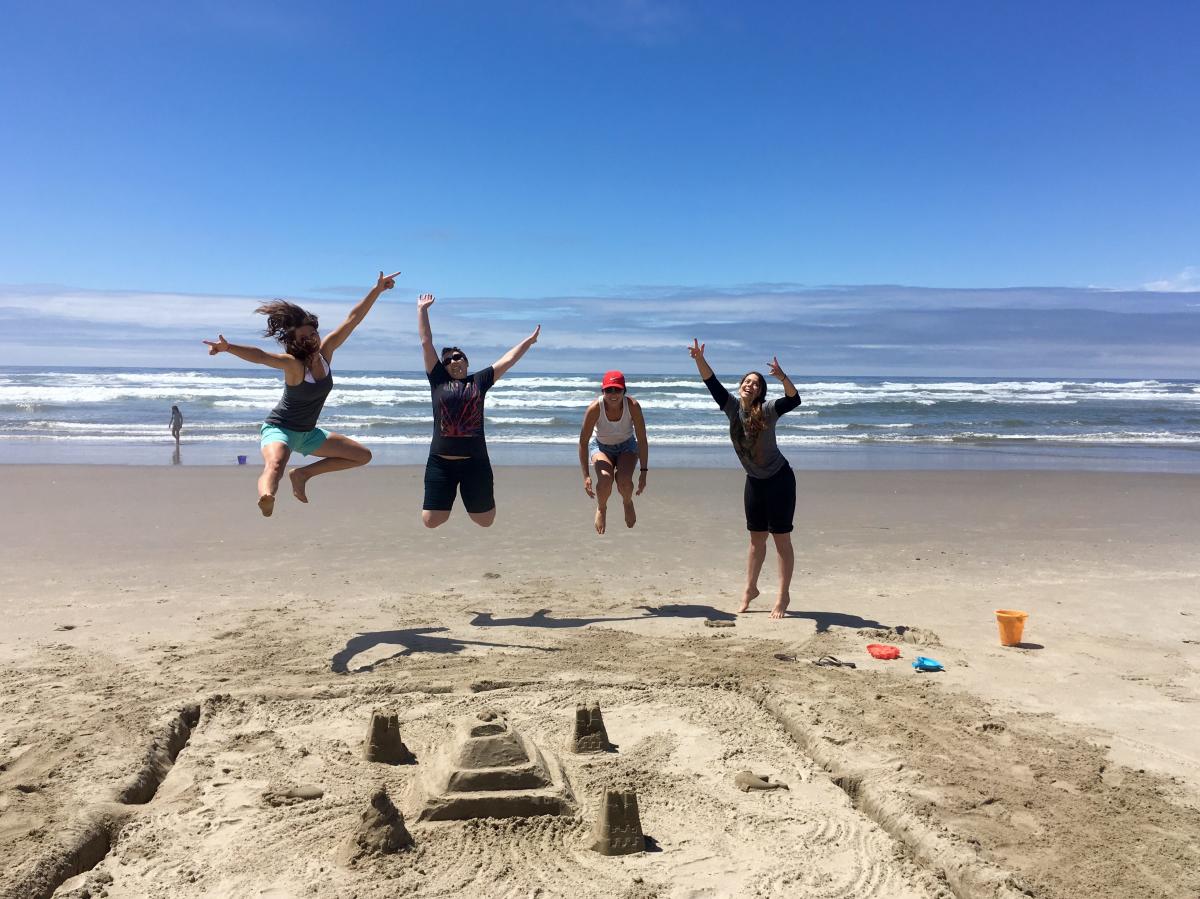 The Florence Area Chamber of Commerce has selected the winner of a $250 cash prize in its 2021 photo contest. The contest was conducted from August 15 to October 15. A panel of Chamber members reviewed the entries.
The Chamber was looking for the best photos of the fun, frolic, and distinctive scenery from Oregon's Coastal Playground—an area up to 25 miles in any direction of Florence. More than 100 photos were entered.
Brittany Buhler of Harrisburg entered the winning photo, taken on Heceta Beach during a girlfriend getaway to celebrate a friend's upcoming wedding.
"We rented a beach house, went out for chowder, then went to the beach to build sandcastles. It wasn't a typical bachelorette party, but it was what we wanted to do for our friend," said Buhler.
Buhler used her iPhone SE set at f\2.2, ISO 25, and 12 mpx with no filters.
The photo will be featured in the Chamber's Visitors' Resource Guide and other printed marketing pieces, on the Chamber's website, and in social media.
"Brittany's photo really captured a fun "playground" moment with her friends all jumping in unison by their sandcastle with the ocean in the background. It expresses how great of a destination Florence is for friends and families vacationing in Oregon's Coastal Playground," said Bettina Hannigan, the Chamber's president and CEO.
"We received scores of entries and it was a close decision, made all the more difficult by the fact that we received such a variety of outstanding amateur and professional photos. Each showed different aspects of the best of our area's scenery, iconic bridge and architecture, natural wonders, and with people having fun in and around Florence; but Brittany's showed best why we call this place Oregon's Coastal Playground," she added.
Buhler, an amateur and hobbyist, shoots families, seniors, couples, weddings, and lifestyle photos. More of her work can be seen at BrittanyBuehlerPhotography.com. She and her husband, the youth pastor at Harrisburg Christian Church, and their two boys, love the Florence area.
"It's just a hop, skip, and a jump from Harrisburg. It's the first place we think of when we want to getaway or go enjoy clam chowder and ice cream in Old Town," she said. "It is exciting to be recognized by the Chamber and to have my work featured on their website, in their Visitors Guide, and in local media," she said.
For more information on what the Chamber can do for you and your business, or how to join or volunteer with the Florence Area Chamber of Commerce, call 541-997-3128 or visit FlorenceChamber.com.