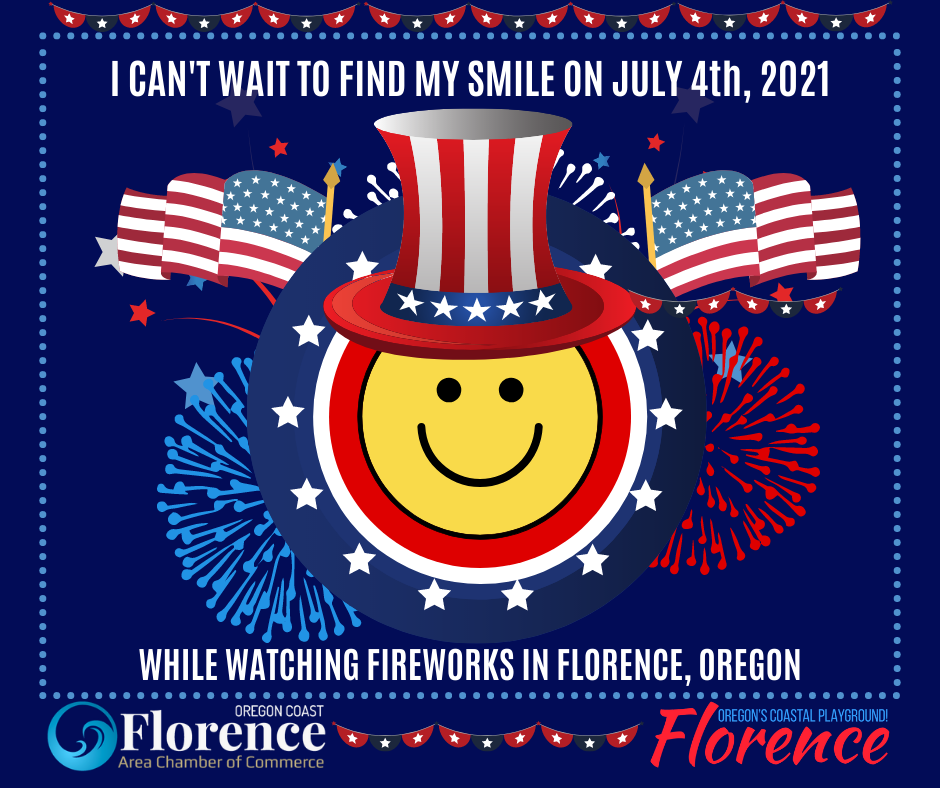 The Florence Area Chamber of Commerce, the Port of Siuslaw and the City of Florence have come together to save Florence's annual 4th of July fireworks display.
The fireworks will be shot over the Siuslaw River from the east end of the Siuslaw Port Campground in Historic Old Town beginning at about 10:00 p.m. on Sunday, July 4, to provide a multitude of great vantage points for spectators.
"Over the past two weeks, we have been holding our collective breaths, biting our nails, and working with key stakeholders—the show's producer Western Display Fireworks, the Port of Siuslaw, and the City of Florence—for a safe contingency plan in the event that circumstances changed," said chamber president/CEO Bettina Hannigan.
With the governor's ruling last Friday, the circumstances did change.
"The Port, Western Display, and the Chamber, with support from the City, were excited to be able to reverse course on our May 21 decision and make this happen," said Hannigan. "Big thanks go to the Port for their generosity in providing the launch location and to Chamber members whose annual dues are underwriting this year's big event (more than $18,000) for everyone who happens to be in town. And we are especially grateful to Western Display for keeping the date open even after we thought we had to cancel and not requiring an expensive cancelation fee. We look forward to celebrating our nation's independence and encourage everyone in Florence to find safe and fun ways to celebrate Independence Day this year and look to the skies that evening for the beautiful display we have planned."
Businesses, civic clubs, or individuals interested in making any size contribution to demonstrate their appreciation and offset the cost of the event are asked to contact Hannigan at 541-997-3128 or mail/drop off a check at the Visitors Center, 290 Highway 101.
At the press conference Governor Brown reemphasized her goal of a 70% statewide vaccination rate (at least one dose) to justify lifting all COVID-19 related restrictions. Lane County reached the state's minimum benchmark vaccination rate of 65% to move into the "low risk" category.
Hannigan said that as community partners the various collaborators had to weigh economic impacts, visitor experience, and public health concerns in a declining yet still changing COVID-19 environment.
"Hearts have chambers, and our Chamber has a heart for this community. It thrills all of us that we can start to put the social restrictions brought on by COVID-19 behind us and take those final steps toward the familiar rhythms of society. We are excited to see the state so close to the 70% vaccination goal," Hannigan said.
"Over the past 18 months we have learned that these are not easy decisions and that they can be forced to change by quickly shifting governmental edict," she added. "It has been challenging, even frustrating, but we have become more adept at shifting with them. That's why we are thankful to those who have supported us and understood the depth, breadth, and length of time it takes to coordinate such events. As we move closer to the state's goals, we look forward to safely resuming our public events like October's Wine & Chowder Trails and Great Glass Float Giveaway Weekend," she added.