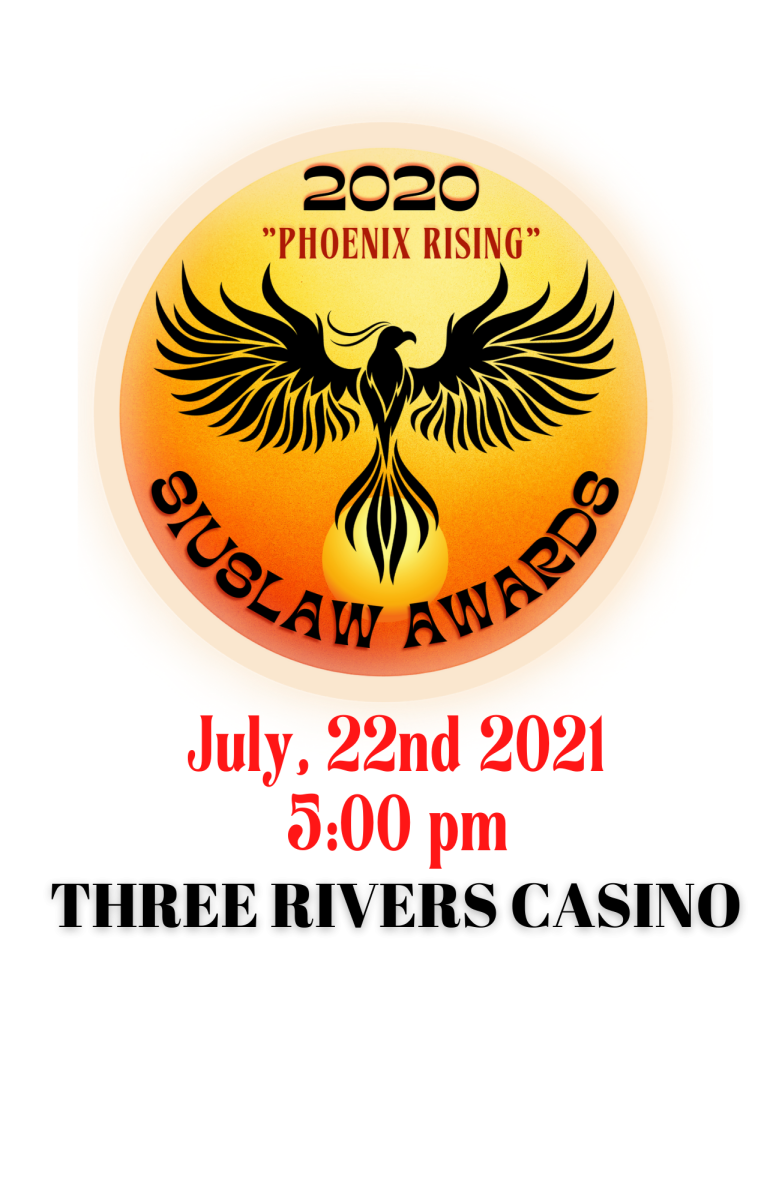 The Florence Area Chamber of Commerce held its prestigious Siuslaw Awards: Phoenix Rising event Thursday night at Three Rivers Casino Resort and presented awards to nine businesses, two individuals, and an entire industry.
The awards celebrate excellence during 2020 in the local business community.
"This year's slate was an amazing representation of our community's best assets, our businesses, and individuals who made a difference," said Chamber president/CEO Bettina Hannigan. "We recognized and celebrated those who inspired us during the past 18 months."
"All who attended heard the stories of those businesses, nonprofits, civic groups, and individuals who not only survived but thrived through hard work, creativity, collaboration, and compassion. There were inspiring tales of businesses helping businesses, churches helping churches, and nonprofit organizations working together to see the Florence area through all we faced during the height of the pandemic," she added.
The event was attended by Florence's mayor Joe Henry, Florence city council members, president/CEO of Travel Lane County Kari Westland, and several hundred other business and civic leaders. Proceedings included Hannigan's State of the Chamber presentation, installation of new board members, and retiring of outgoing board members.
In her welcoming remarks, Hannigan said "Each person here has sacrificed through this pandemic, many of us lost friends and members of our family. We were unable to mourn with our loved ones. Our lives, lifestyles, jobs and social worlds were all challenged in ways unimaginable two years ago. Who would have ever thought we'd here the word pivot so much, how about 'I like your mask?' Really? Our lives will never be the same and like the phoenix we will rise above. We have proven we can change and many of the pivots we all made were actually innovative and will improve our future."
"Your chamber has been at the table more than ever as a result of zooming," she added. "We have revitalized existing and developed new relationships with fellow stakeholders including the City, County, and State along with our Tourism partners. These relationships shared moments of hopelessness and frustration along with the joys of achievement. We worked together to lift one another up with encouragement, compassion, and a few Kleenex."
"We developed COVID-safe events to promote shopping locally and to capture as many tourism dollars as we could. As a point of reference, our lodging tax revenues were up over 15% from pre-COVID. Those visitors came and renewed their passion for the coast and spent their hard-earned dollars here which helped our community stay strong even in an economic disaster. Our community survived and thrived, and we'll hear some of those stories tonight," she elaborated.
"As the Chamber worked through the pandemic to support our entire community, we shared resources funded by Chamber members to help each other and other businesses and organizations that are not supporting members. We did this because we care about our community. This year's Siuslaw Awards are different than our traditional event in the same way. We've opened up nominations to non-chamber entities and celebrate rising from the pandemic's flames together…catalyzing opportunity, (working) together to convene leaders and influencers, and diligently championing a thriving community. Your Chamber is an organization purposed to support business and economic stability," she concluded.
The nominees for Grace Under Fire (Customer Service) were: Banner Bank, The City of Florence Staff, Darlings Marina & RV Resort, and Off Bay Street Bistro. The award went to Darling's Marina & RV Resort.
The nominees for Pivot Forward (adaptability) included: Berkshire Hathaway Real Estate, City Lights Cinema, Florence Farmer's Market, Oregon RAIN, and The Siuslaw News. The award went to City Lights Cinema.
The nominees for Brave New Business (successful start-up during the pandemic) were: Boba Flo, Coffee-Stained Creations, Professional Massage Therapy, and Serene Abundance Studio. The award went to Boba Flo.
The nominees for Young Entrepreneur included: Jeremy Austen – Austentatious, DJ Reynolds – Novelli's, Jennifer Brandenberger – US Bead Warehouse, and Kristen Goodman – Wildflower Montessori School. The award went to Kristen Goodman of the Wildflower Montessori School.
The nominees for Community Impact were: C.R.O.W, Florence Habitat for Humanity, Oregon Coast Humane Society, and Siuslaw Vision. The award went to Florence Habitat for Humanity.
The nominees for Safeguarding One Another included: City of Florence, Northwest Memory Care, and Three Rivers Casino Resort. The award went to Three Rivers Casino Resort.
The nominees for Helping Hearts were: Christmas in June Program – Sam Spayd, Florence Dental Clinic, and the Soup Brigade/Good Deed Project. The award went to the Soup Brigade/Good Deed Project.
The nominees for Stu Johnston Business of The Year included: Boys & Girls Club of Western Lane County, Coastal Fitness, Homegrown Public House & Brewery, Oregon Pacific Bank. The award went to the Boys & Girls Club of Western Lane County.
The Phoenix Rising award, selected by the Chamber's board of directors, went to Oregon Pacific Bank for their determination to do above and beyond normal to serve their customers and support their organizations.
The Unsung Heroes award went to the entire frontline service community. That trophy will live at the Visitors Center in honor of all who risked their wellbeing to take care of the community during the pandemic.
In addition, two outstanding individuals in the community were honored with the First Citizen Award and the Future First Citizen Award. Steve Olienyk was named First Citizen which recognizes an individual who has given selflessly to the community based on community involvement, leadership, and overall community impact. At age 94, Olyienyk may be best known for leading the Kiwanis flag program which places American flags along Highway 101 and other main streets on patriotic holidays and special occasions. Others nominated were Jodi O'Mara, Bob Teter, and Lori Gates. The Future First Citizen Award recipient was Siuslaw High senior Jessica South for her academic leadership and success as well as civic involvement and contributions to the community.
The 2021-2022 all-volunteer board officers and members include are: Chairperson Bonnie Welch, TR Hunter Real Estate; Chairperson Elect Al Rojas, Oregon Pacific Bank; Past Chairperson Neil Ecker, Hyak; Treasurer Brittany Hornung, Buckwald & Hornung CPAs, PC; Secretary Shauna Robbers, Oregon Coast Humane Society; Jo Beaudreau, BeauxArts Fine Art Materials & Gallery; Rich Colton, Three Rivers Casino Resort; Angela Nelson, Fred Meyer; Jason Hawkins, PeaceHealth Peace Harbor; Steve Shrewsbury, Best Western Pier Point Inn; Tess Yahyazadeh, Banner Bank; plus employee Bettina Hannigan, Chamber President and CEO.
For more information about joining or volunteering for the Chamber please call Florence Area Chamber of Commerce at 541-997-3128 or visit FlorenceChamber.com.