How to Craft a Successful Brand
April 1, 2021 @ 9:00 AM

-

10:00 AM
Join us for a deep dive into crafting a meaningful brand that has the potential for longevity and great success.
About this Event
Join us for a deep dive into crafting a meaningful brand that has the potential for longevity and great success. Christina Scott is a multi-disciplinary creative who specializes in simplifying the creative process to help build brands to evolve and live their best lives.
Christina is an accomplished art director, designer and brand strategist with 17 years of experience. Client partnerships range from global brands (Airbnb, Ann Sacks, Nike) and high-end creative agencies to inspiring startups with expertise in the food and beverage, sport, luxury and hospitality industries.
Whether you're a startup with a new idea or an established brand that needs a tune-up, Christina's passion is to guide your business idea or brand with a clear roadmap, that will connect with consumers in bold and meaningful ways.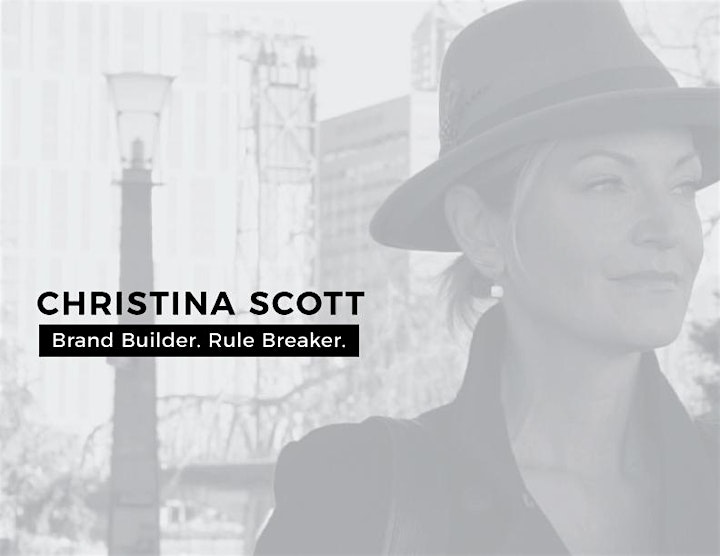 —————————————————————————–
WHAT IS RAIN?
RAIN is a nonprofit organization run by experienced entrepreneurs that exists to reduce barriers to entrepreneurship and innovation by building regional entrepreneurial ecosystems.
HOW DO WE HELP?
RAIN gets invited into communities to help build an entrepreneurial culture, ecosystem, and economy. We find and connect entrepreneurs & businesses with resources that include: programs, training, people, mentors, connection to financial opportunities & physical assets.
WHY DO WE HELP?
RAIN's goal is to build strong entrepreneurial communities that encourage the growth of entrepreneurial economies, foster a culture of possibilities, and create job opportunities.
—————————————————————————–
These resources are made possible by partnerships with 20 cities, 5 counties, 3 foundations, the federal and state governments, and other private funders:
Adair Village, Brownsville, Canyon City, Coburg, Creswell, Florence, Halsey, Harrisburg, John Day, Lebanon, Lowell, Monroe, Oakridge, Philomath, Prairie City, Sweet Home, Veneta, Grant County, Lane County, Linn County, Benton County, Oregon Community Foundation, The Ford Family Foundation, The Collins Foundation, Business Oregon, the USDA, and the EDA.
—————————————————————————–
RAIN wants everyone to feel welcomed and comfortable at our events. Please contact us if there are any accommodations that we can make for you that will encourage your participation. These accommodations may include things such as early login to Zoom to help get you set-up, an advance copy of slides to be projected, language translation. We will do our best to accommodate you. For a more complete list of accommodations please visit our website, https://www.oregonrain.org/about/dei-statement/.
—————————————————————————–
If you would like to find out more about Oregon RAIN visit us at www.oregonrain.org and follow us on Facebook.
Date And Time
Thu, April 1, 2021
9:00 AM – 10:00 AM PDT
Location
Online Event
Already have a ticket?
Organizer of How to Craft a Successful Brand
OUR MISSION:
Oregon RAIN's mission is to partner with Oregon communities to catalyze entrepreneurial ecosystems, connect entrepreneurs to resources (including overlooked entrepreneurs), and contribute to the creation of prosperous economies.
OUR VISION:
Communities support, value, and celebrate entrepreneurs.
Regional leaders recognize entrepreneurs are a primary creator of net new jobs.
Small and rural communities in Oregon have thriving economies.
A culture of possibilities is embraced.
The Oregon Regional Accelerator & Innovation Network (Oregon RAIN) is 501(c)3 non-profit organization that was founded to advance the formation of local-impact innovative startup companies that generate jobs, wealth, and opportunities for the state. Oregon RAIN, which is run by experienced entrepreneurs and angel investors, connects entrepreneurs with strategic resources for launching and scaling business ventures, including mentor connections, educational and training programs, and access to capital.