Food Business Basics: FOOD TRUCKS
April 1, 2021 @ 5:30 PM

-

6:30 PM
Join us for a 5-part series on Food Business Basics where we will hear from successful business owners on how to build F&B businesses
About this Event
Join us for a 5-part series on Food Business Basics where we will hear from a variety of accomplished business owners on how to build successful food and beverage businesses in Oregon.
Micah Elconin from Eugene's Table and Ariel Ruben from Oregon RAIN are partnering up bring you this excellent series on every Thursday night of April @5:30pm.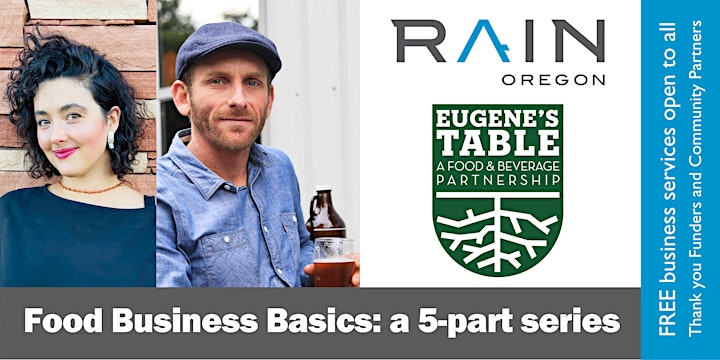 Food Business Basics: FOOD TRUCKS
Food Business Basics: RESTAURANTS
Food Business Basics: CONSUMER PRODUCTS
Food Business Basics: AGRICULTURE
Food Business Basics: BEER, WINE & SPIRITS
—————————————————————————–
WHAT IS EUGENE's TABLE?
Eugene's Table is a partnership of Eugene area food and beverage manufacturing companies that leads collaborative development projects, promotes products and values, and creates opportunities to share resources. Our work unites the food and beverage manufacturing community in the greater Eugene, Oregon area to solidify our region as a hub for world-class companies. Learn more at www.eugenestable.org
—————————————————————————–
WHAT IS RAIN?
RAIN is a nonprofit organization run by experienced entrepreneurs that exists to reduce barriers to entrepreneurship and innovation by building regional entrepreneurial ecosystems.
HOW DO WE HELP?
RAIN gets invited into communities to help build an entrepreneurial culture, ecosystem, and economy. We find and connect entrepreneurs & businesses with resources that include: programs, training, people, mentors, connection to financial opportunities & physical assets.
WHY DO WE HELP?
RAIN's goal is to build strong entrepreneurial communities that encourage the growth of entrepreneurial economies, foster a culture of possibilities, and create job opportunities.
—————————————————————————–
These resources are made possible by partnerships with 20 cities, 5 counties, 3 foundations, the federal and state governments, and other private funders:
Adair Village, Brownsville, Canyon City, Coburg, Creswell, Florence, Halsey, Harrisburg, John Day, Lebanon, Lowell, Monroe, Oakridge, Philomath, Prairie City, Sweet Home, Veneta, Grant County, Lane County, Linn County, Benton County, Oregon Community Foundation, The Ford Family Foundation, The Collins Foundation, Business Oregon, the USDA, and the EDA.
—————————————————————————–
RAIN wants everyone to feel welcomed and comfortable at our events. Please contact us if there are any accommodations that we can make for you that will encourage your participation. These accommodations may include things such as early login to Zoom to help get you set-up, an advance copy of slides to be projected, language translation. We will do our best to accommodate you. For a more complete list of accommodations please visit our website, https://www.oregonrain.org/about/dei-statement/.
—————————————————————————–
If you would like to find out more about Oregon RAIN visit us at www.oregonrain.org and follow us on Facebook.